Greek International Women Awards 2107
We are honoured that our Director Lida Charsouli is nominated for the Greek Women Awards in the Arts & Design Category. Please go here to participate in the Public Vote.

Architect's Journal Specification magazine
Project 'The Lofts' is published in the April 2017 issue.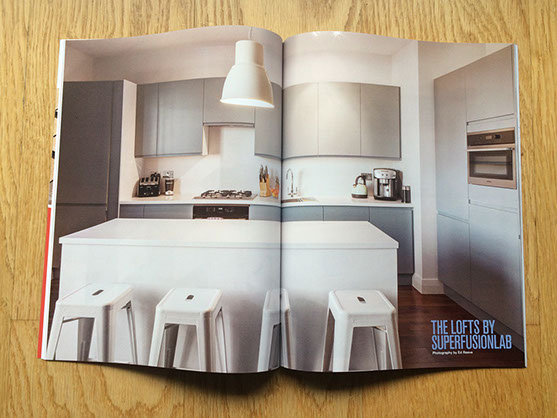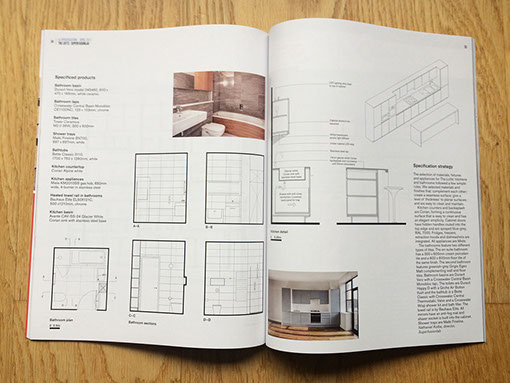 NEW JUICE BAR in Hangzhou
Beleaf Fresh Juice bar opens in the Kerry Centre in Hangzhou,
We moved in our office in Moorgate in the City of London a year ago and still love it!
Participating in the interactive Gaming Exhibition Joue-le-Jeu at Gaite Lyrique in Paris, 21 June - 12 August 2012.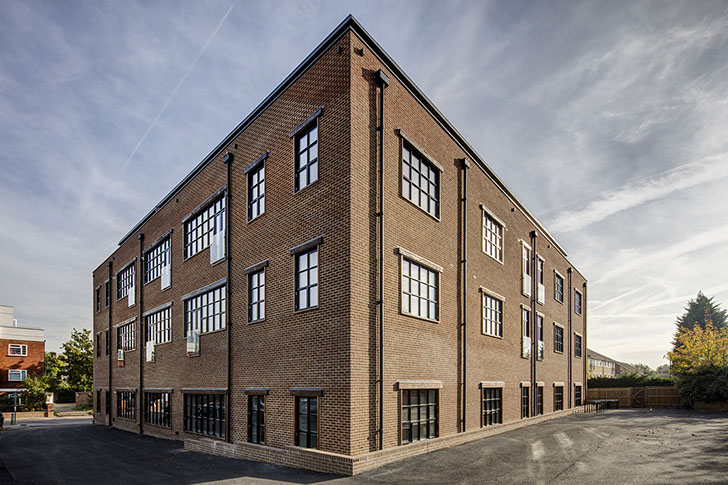 Excited to be taking photos of 'The Lofts' with Photographer Ed Reeve in Mill Hill.
PHOTOGRAPHING 'The Lofts'
The single family residence in Golders Green is completed following a full refurbishment. The property boasts side, rear and loft extensions.
We are happy to see our project in Mill Hill coming to an end. The loft-style apartment block consists of 32 flats of varying sizes.
PLANNING APPLICATION SUBMITTED
A Planning Application is successfully submitted for a new built in the borough of Barnet in North London. The block of flats is arranged over 4 floors with a rear communal garden and on site parking.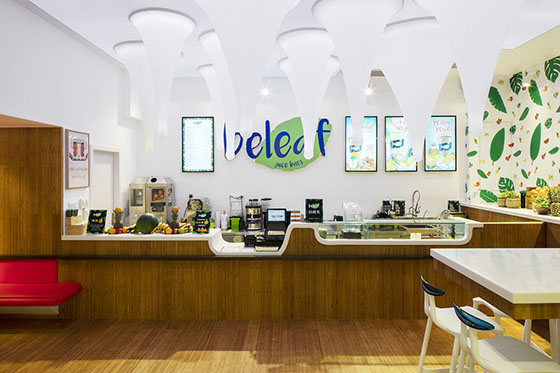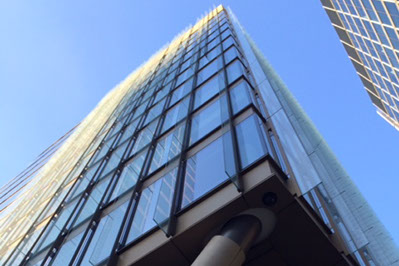 ELEFTHERIA SQUARE EXHIBITION
The Solar Decathlon House was completed in Daetong, China. Nate Kolbe in collaboration with Unit 4, London Metropolitan University & Guangzhou Academy of Fine Arts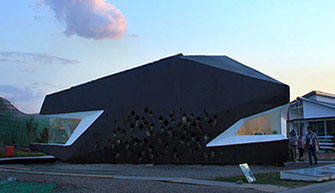 Nate Kolbe is appointed Course Leader for the Diploma School of Architecture at the Cass School of Design, London Metropolitan University.
CHINA 'TIMES' PUBLICATION
Nate Kolbe is interviewed for the China Times magazine
RIBA PRESIDENT'S MEDAL AWARD
Nate Kolbe, Jonas Lundberg (Urban Future Organisation), Eva Diu and Unit 4 students of London Metropolitan University win the Riba Silver Medal.
Superfusionlab is participating with two projects in the 7th Biennale of Young Greek Architects to take place in Athens, 22 November 2012 - 13 January 2013.
Nate Kolbe is invited to Shenzhen, China, to judge an international competition for a pair of 100m tall towers as the panel's outside expert.
Superfusionlab is featured in the weekly newspaper magazine Ependytis, p.32-33
Our Eptagonia Museum project is published in magazine 'Ellinikes Kataskeves' in the October issue and 'Architects_Engineers' Magazine, Issue 95, p 54-55, June 12.
Lida Charsouli publishes her article on the 13th Venice Biennale in 'Ellinikes Kataskeves' magazine, October 2012 issue
Royal Academy Summer Exhibition
We are exhibiting the 'Belgrade Science Centre' model at the Royal Academy Summer Show, 04 June - 12 Aug. 2012
PLANNING APPROVAL GRANTED
We are happy to receive planning permission for the rear extension in the St John's Wood Conservation Area in London.
Our model for the Lincolnshire Beach Hut project is still touring the UK, this time it is exhibited in the Bournemouth Arts University Gallery to coincide with the 2014 Bournemouth Arts by the Sea Festival, 29 Sep – 6 Nov 2014.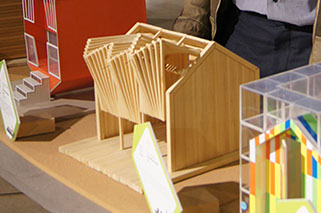 VENICE BIENNALE PUBLICATION
If you are in Venice for the 14th Biennale make sure to check Nate Kolbe's article on Modernism in the Romanian Pavilion publication
CAMPUS in Latsia, Nicosia
The competition entry for Latsia Park is exhibited at Latsia Theatre, 14 Jan - 28 Jan 2013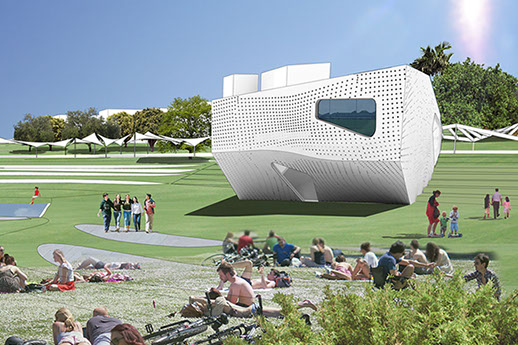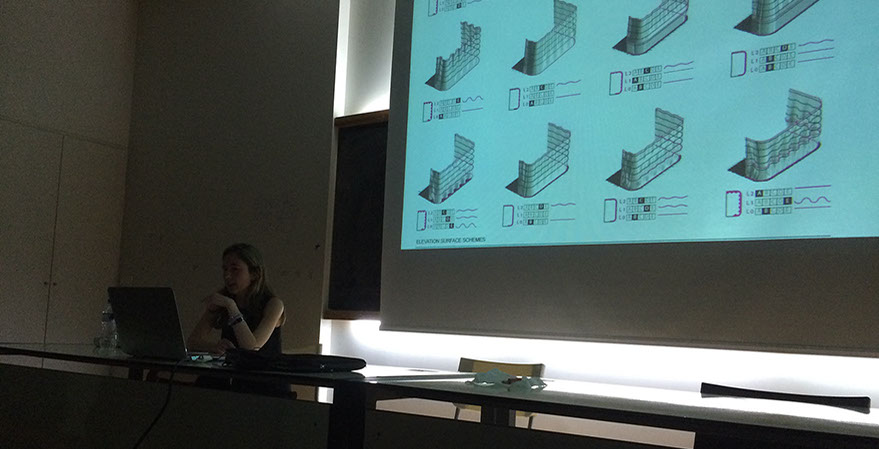 Lida lectures at the Aristotle University in Thessaloniki, Greece
Our Bouncy Carrots installation opens at Kew Gardens as part of the IncrEdibles Festival. The Festival runs from 25 May to November 2013.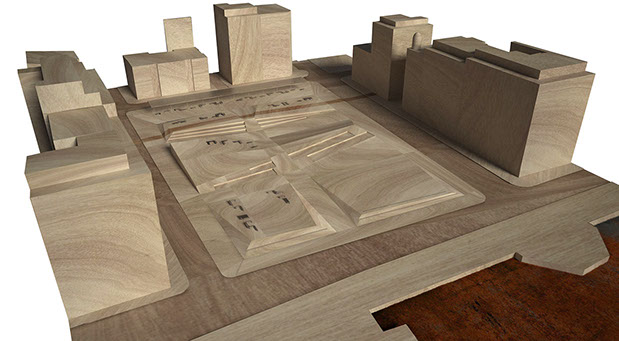 An exhibition showcasing our work is taking place in Thessaloniki, Greece, 4-14 April.
The 'Eleftheria Square' project was designed with Marilena Kosmidou and Spiros Papadimitriou who worked happily with the Superfusionlab team.

RIBA SALFORD BRIDGE COMPETITION SHORTLIST

Our bridge submission for Salford in Manchester made it to the shortlist of out of 172 entries in the RIBA open competition.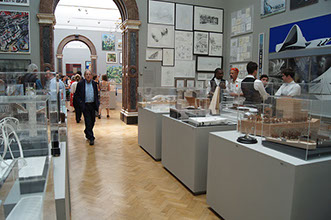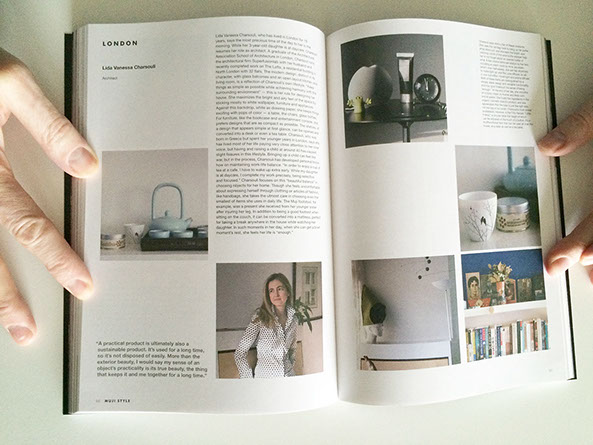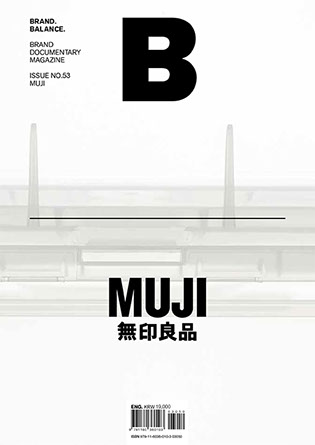 Korean magazine B features Superfusionlab Director Lida Charsouli in Muji issue No. 53
Architect and developer Roger Zogolovitch elaborates on our project in the April issue
Architecture Today magazine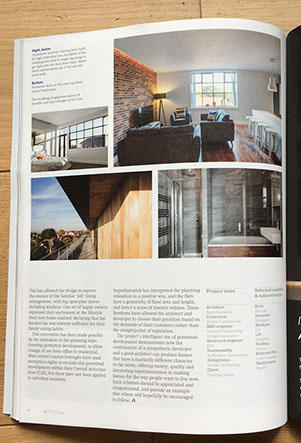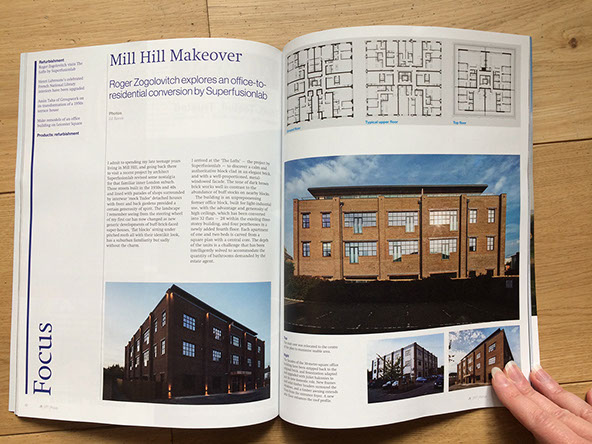 Director Nate Kolbe discusses specifying kitchens and bathrooms as part of an event organised by the Architects' Journal.
India Art & Design Publication
India Art & Design publish Hangzhou Beleaf juice bar in their May blog.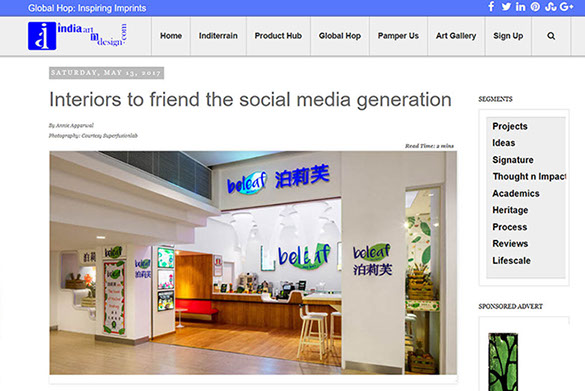 Aristotle University of Thessaloniki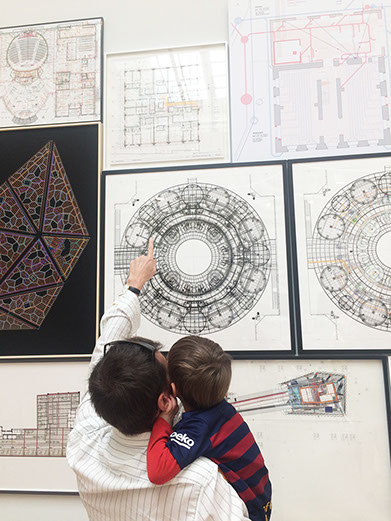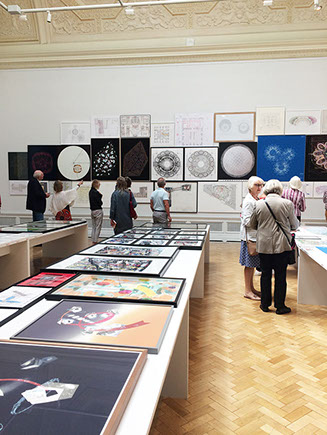 A plan of 'The Lofts' project is included in the Summer Exhibition at the Royal Academy curated by Farshid Moussavi.
Royal Academy Summer Show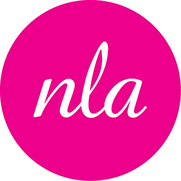 We are delighted to be shortlisted for the New London Awards 2017.
The Lofts project will appear in the New London Architecture exhibition of the capital's very best new architecture, planning and development as selected by an international jury – open to view from July 18th.
AJ Retrofit Awards finalist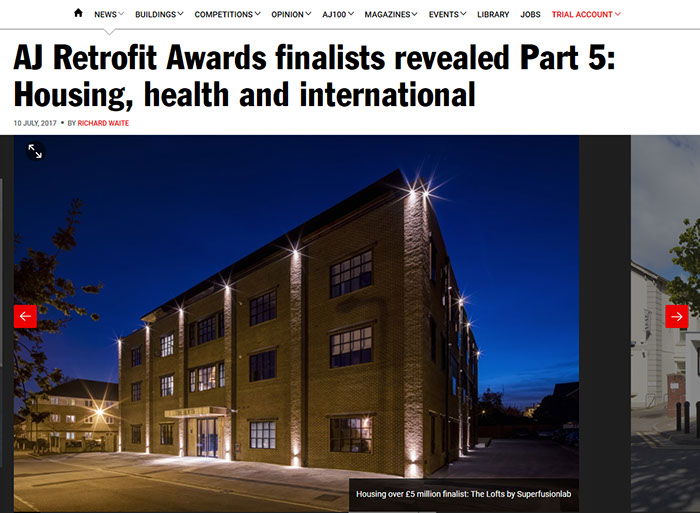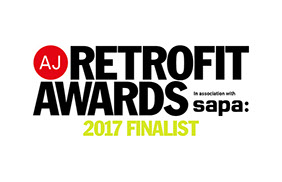 Smart City Competition Success
Delighted to have joined forces with UI Designers 2xUX for the Smart Buildings competition for the City of London! Our shortlisted entry is exhibited at The City Centre @ Guildhall, 21 July - 23 Sept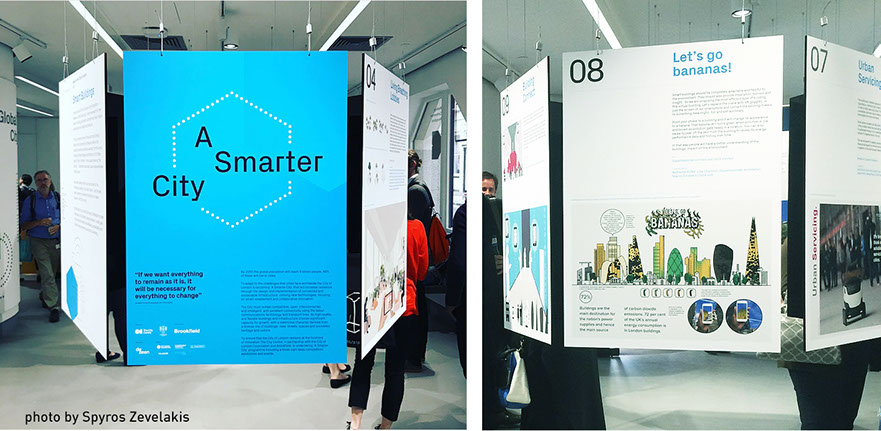 Our project 'The Lofts' and Director Nate Kolbe are featured in the Evening Standard newspaper in the Homes&Property section.
Evening Standard Newspaper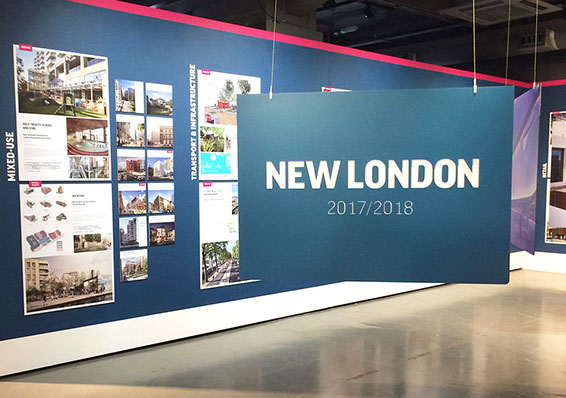 New London Exhibition 2017/18
We are very happy to be included in the Exhibition for the New London Architecture 2017/2018 at the Building Centre, July 18th _ September 30th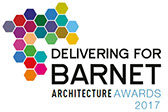 Delivering for Barnet Awards 2107
Our project 'The Lofts' is shortlisted for the Barnet Architecture Awards.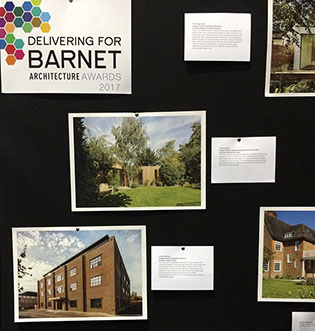 Lida Charsouli is featured on Rebel Architette as part of their promotion and dissemination of the professional title of Architetta (female architect). Their directory of International women is available to anyone who is interested in a fairer representation of the work of women in architecture.